or: "Investigators" have found your Bitcoin wallet…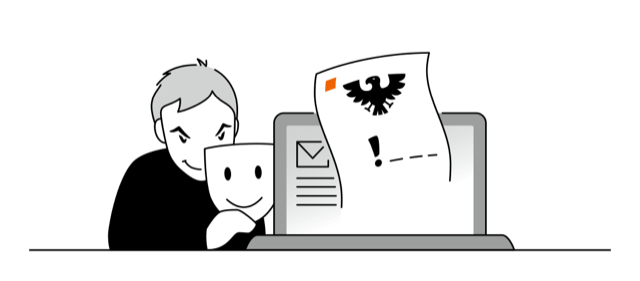 In 2021, over 630 people contacted the FMA in relation to investment fraud. They cumulatively reported losses totalling in excess of seven million Euro. On average the affected parties had lost Euro 32,600 to the fraudsters. In 53% of cases, there was a link to crypto assets. The reality is that it can happen to anyone: anyone can be a victim of investment fraudsters. One method of fraud stands out in particular: that of the "authority scam":
You're surfing the Internet, and suddenly an advertising pop-up opens. It shows a potential investment, with which apparently star investors have also made millions. You are interested, and decide to provide your contact details – maybe you even decide to invest.
A few weeks later you receive a mail from someone claiming to be an employee from the FMA. Their letter is the same as one that can be found on the FMA website, and you recognise the FMA logo. They claim to have come across a Bitcoin wallet held in your name when conducting an investigation. You would have a claim to its contents, but first of all you need to divulge your personal information, such as a copy of your passport, your bank account details, a utility bill or passwords. In the next step, the fraudsters demand money from you. Do not transfer money under any circumstance! Warning! This is a scam! The FMA will never ask you to divulge secret data or to transfer money!
Pay attention to the following warning signs:
Websites, with an address that doesn't match the FMA's URL (www.fma.gv.at).
Communications containing spelling mistakes and poor grammar.
Telephone calls from a mobile phone number or a foreign phone number.
An e-mail address that originates from a Gmail or GMX account.
The FMA will never ask you to transfer money.
The FMA will never ask you to divulge sensitive banking details like your PIN or password.
The FMA does not release transactions.
The FMA will not provide you with advice about financial products and never provides any kind of investment recommendations.
Authority

This means an authority that is entrusted with conducting certain official duties.
Scam

Any kind of fraud or con, especially also online.

Wallet

Electronic wallet used to digitally store and manage crypto assets.
If you are uncertain whether you are talking to a real employee from the FMA, contact the FMA Consumer Hotline on (+43-1) 249 59-3444 directly or use the Contact Form for Consumer Enquiries (in German only) on the FMA website.
Attention! Fraudsters often claim to be representatives of other organisations, such as the Oesterreichische Nationalbank (OeNB), BaFin in Germany, Swiss Financial Market Supervisory Authority or the FCA in the United Kingdon.
Methods of fraud change constantly, and criminal intentions are often not easy to recognise. Always remain critical!
Further information
On the FMA website you can find basic information about the most frequently used methods by fraudsters in the A-Z of Finance.
Watchlist Internet – (in German) an overview of traps and fake schemes in connection with online fraud