Interested in investing in gold or gold savings plans, and wondering what you need to know?
Savers in particular look for protection against inflation and a possibility to build up assists in times where interest rates are low. If you are considering investing your money in gold, here are questions you ought to be asking: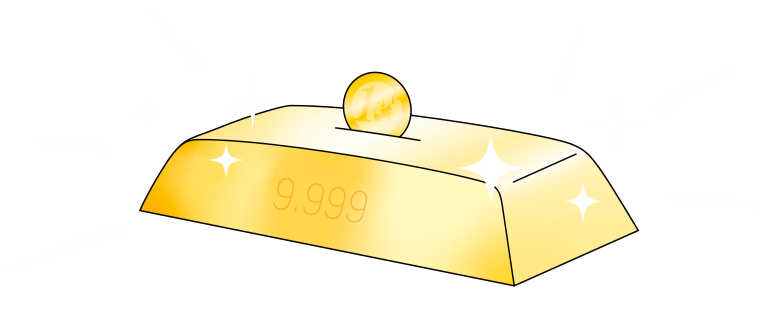 In which form is gold traded?
Physical gold:
As a saver you pay in money on an ongoing basis and the company buys gold with this money and stores it for you. Usually you are a joint owner of the fold, and under certain conditions you may request to receive the gold. Sometimes you will also be sent gold coins on an ongoing basis.
Securities,
that are based on the value of the gold – for example gold ETFs or gold certificates.
Who is allowed to sell gold products?
Individual purchases of gold
Gold is allowed to be sold without individual investment advice by anyone holding a trading business licence.
Gold savings plans:
The brokering of gold for building up assets constitutes investment advice and is only allowed to be performed where a business licence is held for providing financial advice on a commercial basis.
Gold securitised as a security:
In contrast to the first two cases, such distribution is subject to supervision by the FMA. Where an advisor recommends such a product to you, they must be allowed to provide investment services. Steer on the safe side and consult the Company Database and the query of brokers at www.fma.gv.at.
What are the typical risks?
Lost in the post when being sent out – check whether your delivery is insured.
Storage at home – check what claims (e.g. theft, fire, etc.) are covered by your household insurance.
Storage by a company – potentially high costs, but a lack of security. Study the general terms and conditions.
How quickly can you access your money? What is the tradeability of your product like? Is there a possibility to redeem your investment – and under what conditions? Usually it is not possible to sell your precious metal savings plan as quickly as you can sell a security over the stock exchange.
The value of the gold is subject to historically high price volatility, and trading is conducted in US dollars. You therefore bear both a gold price risk and an exchange rate risk.
Beware of dubious providers and fraud – check Internet forums for indications from fraud victims.
Precious metals:

Gold, silver, platinum and others are physical goods that are traded as commodities.
Certificates:

Debt securities (bonds) in an issuer are transferable securities. They can be exchange traded or traded over the counter.
Units in funds:

Unite in collective assets, regulated financial instruments. Funds may be special assets
of a funds company (investment funds, UCITS funds), or alternative investment funds in other completely different forms. Exchange Traded
Funds (ETFs) are a special form of investment funds that are traded on an exchange.
Are the costs shown transparently?
Request a transparent table of fees, and check what costs arise. Also check how high the brokerage commission is.
Calculate how strongly the gold price would have to rise, in order to offset the charges
Other editions
Further information:
Risk information (in German) from the Chamber of Labour in Upper Austria:
WKO check list (in German) for purchasing gold
For further information on investing money, check out
our A to Z of Finance. There is further information in the section Invest,emts.
It explains about the psychological traps that exist when making investment decisions, and what you should look out for to avoid such traps.