Fire, storm damage, water damage, burglary – what will your insurance replace? Take a look at your insurance policy and make enquiries!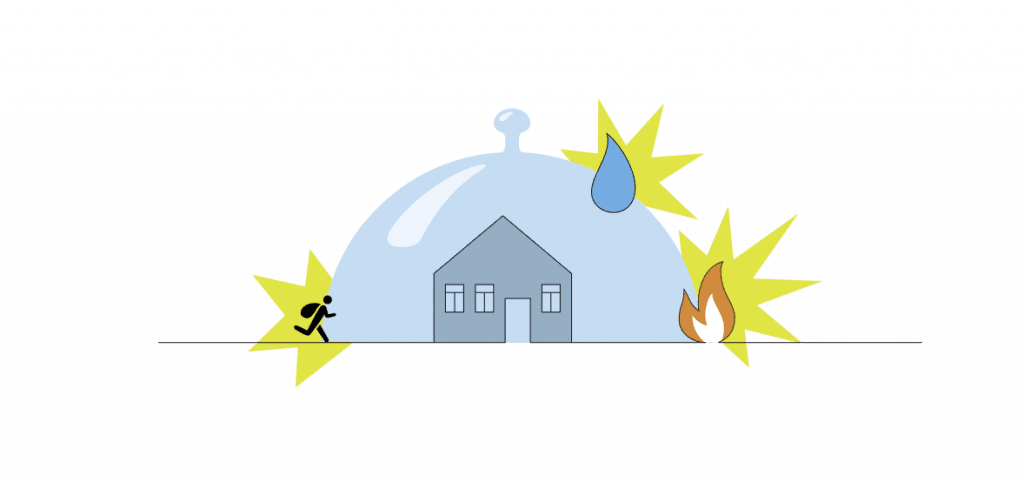 The contents of your home listed in your policy are insured. Home contents include items such as furniture, clothing, electronic devices, as well as valuables that belong to your, your partner or children living in the same household. Your guests' items are also insured, provided that they are not paying to stay with you.
Ensuring replacement of new value
Generally, household insurance offers the new replacement value. In the event of a claim, you receive the full replacement price. Caution: if the object is no longer in use, or if its value at the time of the claim event has fallen below 40 % of its new value, then often only its current value is reimbursed. Do you always want to receive the new replacement value? Then you should negotiate general replacement value indemnity without a current value clause.
Avoid underinsurance
Ensure that your household contents are adequately ensured. The sum insured is the maximum amount that you may receive as a consequence of a claim. You should consider how much money you would need to re-equip your household. Underinsurance occurs when the replacement value is higher than the sum insured. Example: you insure your household contents for EUR 80,000. Your living room is destroyed by fire and you sustain damage of EUR 40,000. The insurance company values your household contents at EUR 160,000 prior to the fire. You think that the damage is fully covered. Incorrect! You only receive EUR 20,000, as your household contents were only 50 % covered. You could agree an underinsurance waiver with your insurer. This means that the insurer waives its objection to underinsurance, and compensates the damage in the event of a claim up to the agreed maximum amount. Ask them!
Caution, inflation! – Understanding your adjusted premium
Most insurance contracts contain an "indexing clause", which results in premiums being adjusted for inflation. While it means increasing costs for you as an insurance policyholder for your insurance cover, in the case of making a claim it clearly works to your advantage. Without such an indexing, there would be the threat of underinsurance.
Policy:

Contract document between the insurance undertaking and the insurance policyholder.
Inflation:

when prices for goods and services increase, and you get less for
your money.
Indexing or indexation clause

The sum insured is adjusted annually to the underlying index. A range of indices exist: consumer price index, construction cost index, etc.
Other editions:
A to Z of Finance:
Important basic information can be found on our website about Insurance